Services
---
---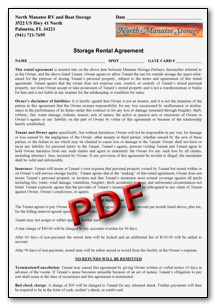 Amenities:
On our grounds for your use are an RV dump station; a boat and RV wash-down facility; and on-site detailing. We are also closely affiliated with several local mobile RV repair companies.
Pricing:
Storage contracts are available for monthly, quarterly, or yearly rental of your storage space at these competitive rates:
Covered storage with no electric:
$235.00 per month
Covered storage with electric hookup:
$265.00 per month
60 feet long
$197.00 per month
Outside storage for RVs, boats,
and trailers…
• 20 feet long:
$ 84.00 per month
• 30 feet long:
$131.00 per month
• 40 feet long:
$170.00 per month
NOTE: All prices include sales tax.
Convenience:
Our facility offers easy access to major highways and interstates:
US HWY 41
US HWY 19
I-275
I-75
Security:
Our grounds are completely fenced, with a gated access to allow 24-hour entry and exit for our customers. On-site security cameras record all activity.
Call us at: (941) 721-7695
---